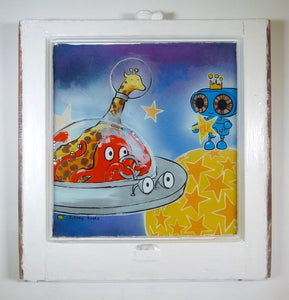 JohnnyBotts
Imagine
Imagine

One of my favorite things to paint was improbable animals in flying saucers. The giraffe won't fit, so he needs a separate bubble for his head.  Featuring Robot Darius.
Acrylic and Spray Paint, Reverse Painted on Reclaimed Window
Overall size is approximately 21 inches high x 18 inches wide x 1.5 inches deep.
Wired & ready to hang.
Free shipping in the U.S.A.
---
More from this collection