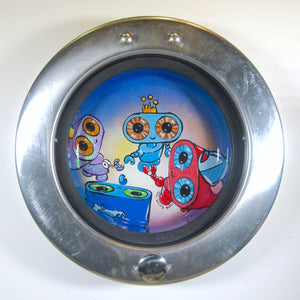 JohnnyBotts
Extra Power
Extra Power

Acrylic, glitter and Spray Paint Reverse-Painted on Reclaimed Commercial Washing Machine door. 

This piece features 4 robots I created and have been painting lately: 
Asher: who's name means Happy
Valentina: who's name means Healthy
Darius: who's name means Kingly, or Wealthy
Sophia: who's name stands for Wisdom.
I believe working on these 4 things a little bit at a time can be beneficial, and this painting is a reminder to do that.
The title has a double meaning: extra power gained from doing the work to be Happy, Healthy, Wealthy, and Wise--And the name of a washing machine cycle.
Overall size is approximately 16 inch diameter x 4 inches deep.
Free shipping in the U.S.A., or free local delivery.
---
More from this collection