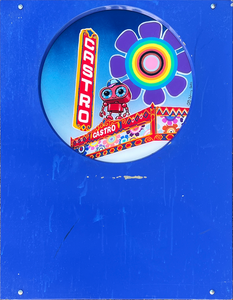 JohnnyBotts
Castro
Castro

Acrylic and Spray Paint reverse-painted on plexiglass, featuring San Francisco's iconic Castro Theater Marquee and my robot Asher. Asher is a Hebrew name meaning "happy" and "blessed."
I live in the Castro neighborhood, and feel happy blessed to be here. I see the Castro Theater all of the time, and I'm very interested for it to have a successful future.
The blue panel is just how I received it, a commercial dryer front panel reclaimed from a San Francisco laundromat. It shows the scrapes, stains and rust from years of service, and has a beautiful patina.
This painting measures approximately 33.25 inches tall, 25.75 inches wide, and 1 inch thick. It weighs approximately 18lbs, wired and ready to hang.
Free local delivery or pickup in the Bay Area. If you need shipping, I will determine actual cost for your location.
---
More from this collection