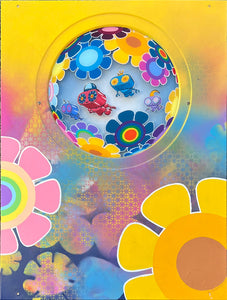 JohnnyBotts
Nectar
Nectar

Acrylic and Spray Paint on plexiglass and reclaimed metal. The plexi is partially left clear, showing the panel behind, creating a nice depth that allows for interesting shadows. This piece features robots left to right: Valentina, Asher, Darius and Sophia, whose names mean Healthy, Happy, Wealthy, and Wise.
The yellow panel is a commercial dryer panel reclaimed from a San Francisco laundromat. It shows the scrapes, stains and rust from years of service, and I include my own additions.
Nectar measures approximately38.75 inches tall, 29.25 inches wide, and 1 inch thick. It weighs approximately 25lbs, wired and ready to hang.
Free local delivery or pickup in the Bay Area. If you need shipping, I will determine actual cost for your location.
---
More from this collection