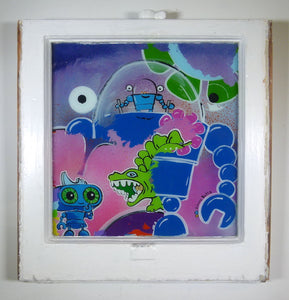 JohnnyBotts
Thoughts Inside a Dream
Thoughts Inside a Dream

"Thoughts Inside a Dream" features my Double Robot, Robot Valentina, and a squeek toy dinosaur all mashed together. Years ago, I started my artist journey painting this dinosaur toy.     
Acrylic and Spray Paint, Reverse Painted on Reclaimed Window
Overall size is approximately 21 inches high x 18 inches wide x 1.5 inches deep.
Wired & ready to hang.
Free shipping in the U.S.A.
---
More from this collection